I'm just all about trying something new these days. The wonderful women at
What Works For Us
(Cecily and MamaGeek) host Photostory Friday. The rules are to post pictures that you took and describe why you took them.
Here's what we did today:
Simon always is quick to grab his 'toy of the day' when the camera came out. Buzz and Woody were it today, and they just needed to be photographed. I just love how innocent Simon is. He is a very lovable little guy and loves to play. He's quickly becoming my best friend. I convinced him today that he should be my friend...I had to break out the tears and bottom lip though.
How could you not love those blue eyes?
Of course Simon loves to see me in the display on the camera. He's always quick to wave to the camera and say, "Hi, Mom."
When he saw this photo of himself he said, "Simon's silly." I want these memories of his younger years to stay fresh in my mind. We have a lot of fun together during the day. I'm glad I have the job I do so I can stay home with him.
And last but not least, I wanted to photo his normal attire these days. Diaper and socks. He could have goosebumps and be saying, "Simon chilly", but he wants his 'belly' to be out and free. He's crazy.

Hopefully since this is my first Photostory Friday I've completed the task as required, if not, oh well. Live goes on. I enjoyed taking these shots and spending time with my little guy.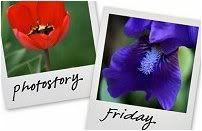 Hosted by Cecily and MamaGeek