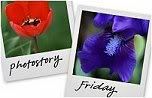 Hosted by Cecily and MamaGeek
The other night I was trying to take some photos of Alex eating a banana. Don't know why really, I just thought it might be nice.

Well, he got the brilliant idea to start doing this....
And this.....
So by this time I am
yelling
laughing, as is Alex, so Simon comes to see what is so stinkin' funny. Big Broder tells him to run before mom can take a picture and then Simon gets in on the fun by doing this.....
Which I must say is actually an awesome photo. I sometimes like the blurish photos. So the fun kept going.....
And going....
But then we started to bother Dad.....
So we went to the bedroom....
I did trick
them
though and got this photo before they could run away....