Wow, December 4th was the last time I posted. Guess I'll have to update you all. So that means some photos, plus it's Photostory Friday.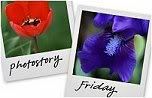 Hosted by Cecily and MamaGeek
The biggest reason for my absence was that I was down with the flu for 5 days. I'll spare the gory details of that.
Last Saturday we went with my Sister, Niece, Mom and Step-Dad to see Elmo. Simon had a great time!
Simon and Ali enjoying some pre-show Cheerios

Simon sneaking up to one of the beepy nose guys to get a hug. He's the little guy right up there in the boots.
My boys took a bath.
Actually the reason this touched me so much is because Simon adores his big 'Broher'. Simon asked his Broher if he would take a bath with him and Alex agreed. They act just how I would hope my boys would act together. I hope they don't ever grow out of this friendship.
Tonight is Taylor's first Semi-Formal. Here she is with Dad and Simon. I'm glad her mom's boyfriend's niece has a ton of dresses for her to pick from, so we didn't have to get a new one.
I got to do her hair!
Yea, for Step-Mom of the Year!
And I think that about wraps it up. Maybe a little more Christmas shopping this weekend. Hopefully just laying around. Since I've been sick I haven't gotten to do a whole lot. I'd like to get back to my book. I've just been too goofy in the head to even focus on it. (Spare me the comments please, Staci.;))
Have a good weekend.